How to wear a body chain?
Most girls that come into the store think you only wear a body chain with swimwear, this is so far from the truth. Yeah, wearing one on holidays in Mykonos or on a Sunday at Ivy Pool Bar is a no brainer, but there as so many other ways you can wear it, in fact we think it's one of the most versatile pieces we've ever designer. Lets go through some different looks.
CASUAL LOOK
A body chain can add a little of edge to a basic casual look. Wear it with some cut offs a single or crop top. The body chain look just as good, if not better, worn underneath clothing. A body chain under a floaty crop top bring a bit of sexy back.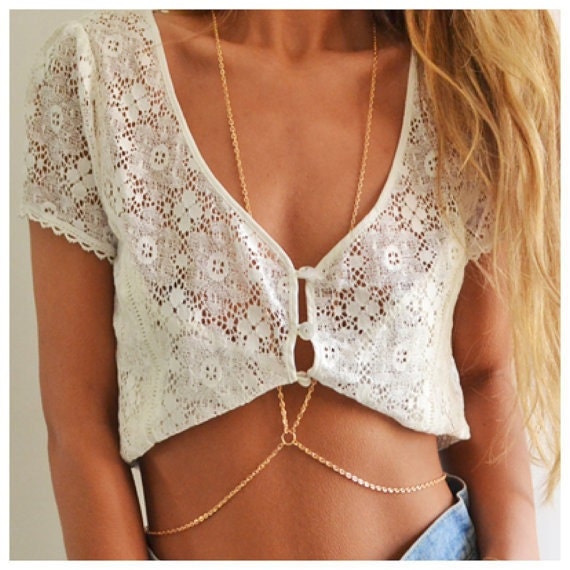 EVENING WEAR
Our original body chain and the BEYONCE body chain are super fine and beautifully plated, they look sexy on bare skin, and the perfect option for an evening look. The key is to keep the dress simple but super sexy. Don't go for anything with a print or details, like beading etc. The body chain will just get lost and will look like a hot mess.
BACKLESS
Got a backless dress and not sure what to wear with it? Just flip the body chain around, our original (Rihanna) body chains works really well for this look. Again keep the dress simple, and take into account what you're going to be doing with your hair, either wear it in a bun for a more chic look, or to the side for a day event. 
STATEMENT BODY CHAINS
Some body chains are just statements and you just have to wear them that way. Check out our amazing MYKONOS body piece, worn by the fabulous Sydney Fashion-Blogger
All the components are cast individually and hand put together, it's made of a brass base metal with palladium gold plating. It's made with an extender around the neck and another one around the waist, so it's fully adjustable, but we can custom make this to your specific measurements if you prefer.
Check out our whole range of body pieces here.
---